Video, live performance (1999-2001)
Crawl is a video performance piece I started many years ago, where I crawled, belly-down, across many different landscapes, wearing a dress my grandmother & I made for the project. I was exploring the physical pull of the inarticulate. Inarticulate urges, the inability to speak, the sense of being drawn forward outside of words.
I had an image of a silent, slow figure, moving steadily across empty space. It was important to me that this was live performance, that each crawl was an event in time that impacted my body and took the time it took.
I am fascinated with the repetition of the gesture, the live experience, the accidental audiences, and the ritual. I am consuming the earth, knowing it much more intimately. As video I am not interested in the emotion at all: I want to squeeze it to the essence of form. No face, no emotion, no reason: landscape, line, repetition. I want to isolate the image and repeat it, so that it takes on both a mundane and a mythic quality.
I chose landscapes that had a quality of emptiness and separate rhythms from the moving figure. Crawl was a meditation on how we say what we need to say, even without words, and how each saying is a physical act.
I crawled across approximately 50 landscapes. Each crawl bisects one third of the screen so they can be arranged in a grid. Excerpts from a few are below.
Still Shots
A grid of some of the different landscapes I crawled across.
A grid of different landscapes
The Dress
My late grandmother sewed me dresses my whole childhood. She took great pleasure in fashion and sewing. She was a bit unnerved when told that this dress was made to be destroyed by crawling across outdoor landscapes, but she was game and we sewed it together, where she used me as her assistant.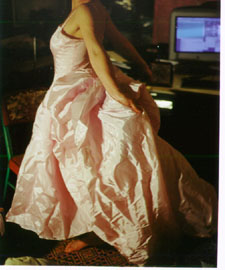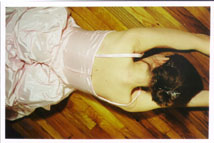 Videos
Snow, Connecticut